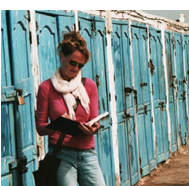 My signature work work consists of vibrant, bold colours with strong architectural shapes and patterns. I take my inspiration from archways, doorways, weathered walls, decorative motifs and lettering of foreign lands. Recent projects are more figurative, using a limited palette.
Born in Yorkshire, I attended art college in Bradford then headed south to far sunnier countries.
I spent the next ten years travelling and working overseas. I am a collector, traveller, observer, an adventurer. My sketchbook is my best travel companion.
In a new country I am alert to each shape, shadow and surface. Back in my studio I simplify and flatten space, recompose, conceal and reveal, deliberately avoiding representational clarity to create vibrant compositions, never knowing how the piece will develop. Collage is so versatile and immediate, I love the spontaneity of the ripped and cut line and the 'history' of a piece of abandoned paper. It is a controlled yet intuitive development that allows me a huge amount of freedom to interpret my sketches in a bold and original way.