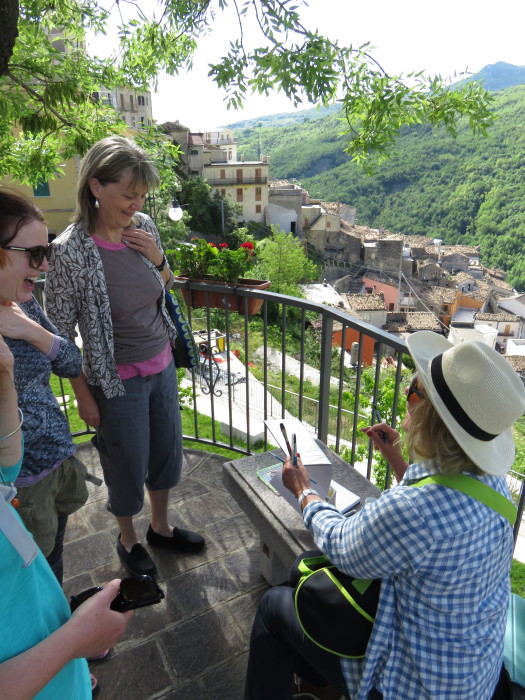 Farindola, Abruzzo, Italy
A shy and secluded village clinging to a majestic mountain, Farindola lies on a hilly outcrop overlooking the high valley of the river Tavo. Farindola is 1 hour drive from Pescara (flights from Stansted) and 20 minutes from the small town of Penne. The village is famous for it's cheese 'Pecorino of Farindola' See and listen a morning view here https://youtu.be/Y1EW3vQF58I
In 2015 I spent two weeks in Farindola as an artist in residence along with 9 others as part of the first Farindola International Arts Festival. I fell in love with the people and the place, so I invite you to come back and sketch with me each September. Click to read my blog posting http://karenstampercollage.com/blog/farindola-international-arts-festival-italy-2015/ You can view more of my sketches on my Flickr page  https://www.flickr.com/photos/8813416@N07/
My sketchbook holidays are for the independent sketcher who would like company too.
They are ideal for beginners who need motivation, as well as those with experience but looking for fresh inspiration. This is not a taught course, there will be no step by step demonstrations in one particular style; each morning we will wander to find our own viewpoints and then meet for lunch to share sketches and ideas. Afternoons are free for more sketching or exploring, followed by a get together to share ideas and techniques around 5pm.
The rewards are immeasurable, by being totally absorbed in a beautiful, stimulating  environment, with shared experiences and  ideas, you will broaden your horizons and open your eyes to new ways of sketching. My aim is to provide a break where you can sketch but in a supportive surroundings.
  " I have produced more in 4-5 days than a whole year at home! It is amazing, I started the first morning a little apprehensive and by lunchtime I was totally absorbed. The time just flew by."
Drawing on the sense of community and new friends, you will also find encouragement when you share your work and ideas with others.
            "I did not know what to expect from this holiday but I must say it has gone very quickly and was really special. It has provided me with an opportunity to break from my hectic routine and tune in to my creative side."
This a short break from Saturday evening to Thursday. The best way is to arrive on the Ryanair flight Stansted to Pescara.
All you need to bring is your sketchbook and favorite drawing materials. I will have a small collection of materials too. From the village there are stunning views across the valley: in the village there are gorgeous crooked streets, two cafes, churches and so many roof top views.
Each day will start with breakfast, then it is sketching time until lunch. The afternoons are free for you to continue sketching or explore the area. There is an afternoon meet up time (5pm) to share sketches, ideas and techniques.. Early evening is the time for aperitifs and a well earned, wonderful dinner.
There are only two 'hotels' in Farindola. Rooms are booked first come first served. Both are up the hill from the main square, Altrocanto is 5 minutes gradual hill, Cuccomella another 10 minutes steady climb along the road.
Altrocanto, a beautiful boutique hotel with five double rooms, run by Thomas and  Marco, (bed and breakfast).  For three of the evenings we will eat together at Altrocanto, (four courses plus wine) leaving one evening free for you to choose. http://www.altrocanto.it
La Cuccomella, a simple, clean friendly restaurant with rooms above and dramatic hill top views. views.https://www.facebook.com/lacuccumellafarindola/
Dates for 2019
Sketchbooking in Farindola  Saturday 14th – Thursday 19th  September  ( Sketching Sunday, Monday, Tuesday, Wednesday)
B&B
Altrocanto 400 euros per person in own room.  335 euros per person – couple/two friends sharing
Cuccomella 380 euros per person in own room. 315 euros per person   – couple/two friends sharing     
There are only two places to stay in Farindola. I have booked the  rooms here and I fill them on first come first served basis. In Altrocanto https://www.altrocanto.it/?page_id=34 there are five rooms, mainly doubles but some have a mezzanine floor and a sofa bed, so two friends can share.
The rooms in Cuccomella are large,  is a pizza restaurant with rooms, 10 minutes walk further up the hill ( good walking legs needed)https://www.facebook.com/lacuccumellafarindola/
Prices include accommodation and three evening evening meals (four courses plus wine)
Prices are in EUROS
Extras: Flights (£60 – £150)  the best way to travel is Stansted to Pescra. Departing on the 6pm evening flight and leaving Farindola Thursday lunchtime. www.ryanair.com If everyone travels on this flight we meet in the departure lounge.
I have organised a transfer from this flight only. Pescara airport to Farindola   15 euros each way.