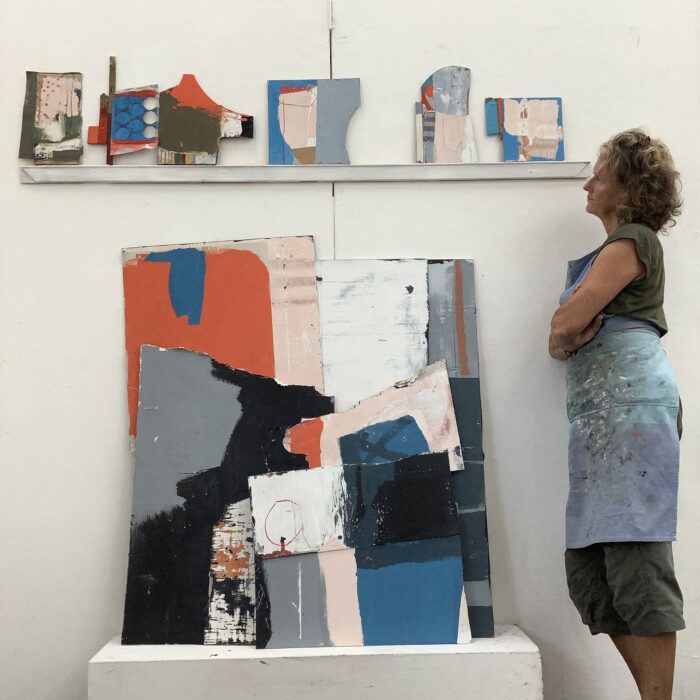 In September 2022 I participated in a two-week artist residency at Emily Ball's Seawhite studio near Brighton.Working in a massive studio with six more artists was a real treat for me. Many times in the past I have discussed with Emily how frustrating it is not to be able to find large studio space in my area; this is a great solution.
The pictures below should give you a taster of my week. Firstly setting up my space, hanging up images that are important to my series including photographs and my small cardboard studies. I also took time to visit Shoreham and had a fantastic poke around the boatyard on a grey September day – in my element!
I have been working on my salvage series for at least six months, developing small studies of around 30cm to 40cm, in paint and paper collage on panels. This scale is fine in my small studio as I could place them of my shelves and on the back wall. But there is no way for me to expand into a series of bigger work, and to be able to hang and see them altogether. This was my aim for my two weeks, to make big work and to hang them together, large and small, and then see how they communicate with each other.
Because I had been working steadily I knew exactly where I was and what I needed to do when I started the residency. I had prepared some panels with a few layers of paper, but I need to continue building these before adding colour and cutting into shapes. This meant that I was working confidently with no indecision, which was a bonus. I know that if I hadn't had this solid work behind me it would have taken me quite a few days to get into the groove.
This residency can be for one week or two. Each week I was joined by different artists. It was wonderful to see and hear how we all work: some work gently – hardly moving, some stretch up high and low, some sit quietly using words to stimulate and inspire them and one made marks with her feet. I was in the stretching high and low, across and under camp and I tried to keep my sawing and wood splitting into a minimum! The rhythm and flow of each day was marked by all these sounds of activity – along with the kettle boiling and the opening of the cake tin. Gradually, as each day developed we got to know each other's work a little more to the extent that genuine and helpful conversations opened up. Below you can see Emily Ball, Felicity Heath and Geoff Parham working in the studio.
I would thoroughly recommend taking time out of your own studio to work in a dedicated and focused artists' space for one week or two. It will certainly move your work on and also give you space to breathe and reevaluate what you doing in your own work.
Emily will be opening up places for the next residency in May soon.