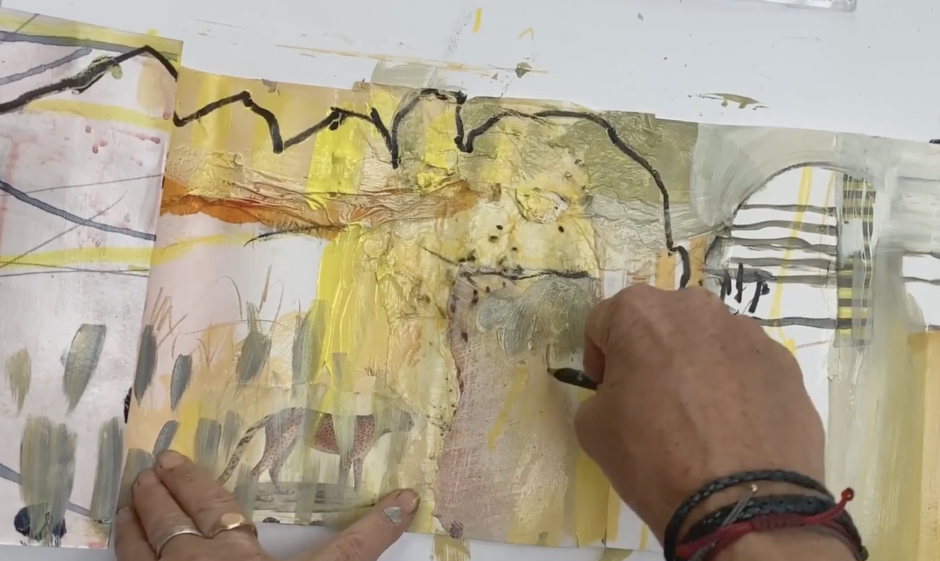 Free up to your Sketchbook and Grow is my six week online concertina course.
This course evolved naturally as I worked through my own concertina sketchbook, looking for different and exciting ways to push marks and images. I know, from many years of teaching, that some people are afraid to get a bit messy in their sketchbook and often limit themselves to small pen or pencil drawings, and maybe some watercolour. In this course I want to break the boundaries of what we can do in a sketchbook and a concertina lends itself so well as one page can flow into the next.
In the six weekly modules I  give different starting points. Sometimes we start from free accidental marks and sometimes we start from a secondary image – this is used as a starting point and is often lost under additional marks. We progress through the book by responding again and again to what we've already created. This means building up layers of collage papers and paint.
There is a fair bit of collage and I introduce acrylic paint, which often we are afraid to use in our sketchbooks. As with all my courses there is not one right way to do it – I expect participants to take my ideas and run with them – hopefully developing their own way of using the techniques shown to have fun and be excited by their sketchbook!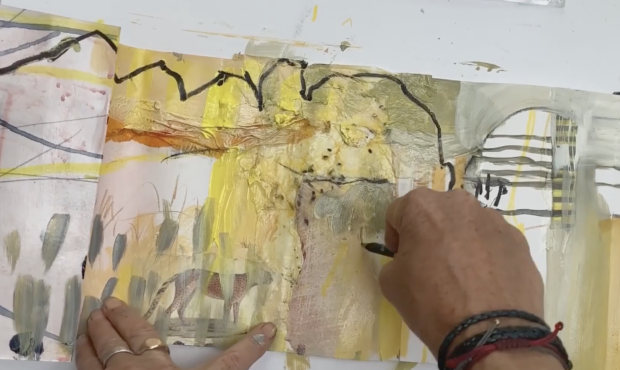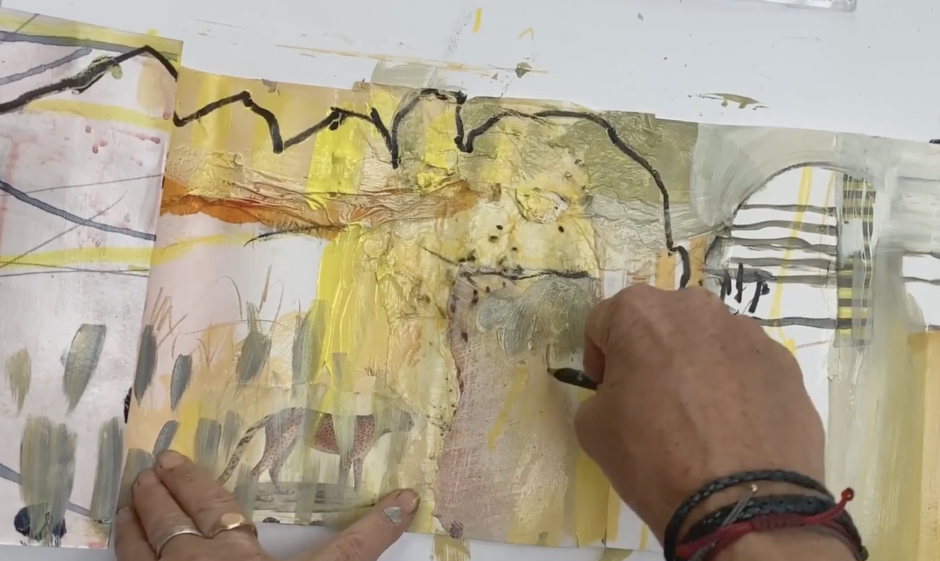 Below you can see some beautiful pages from past participants. Most of these were work in progress and have by now moved on into bigger pieces of work.
Each week, over six weeks, new pre-recorded lessons will open. You can follow along week by week or you could work in your own time and schedule; you have access to the course for a year. I gradually lead you, step by step, through many different kinds of mark making, as you can see above and below. We start with simple drawing tools and a little bit of collage, and then gradually lead up to acrylics. You will only need a small amount of these materials.
My lessons are delivered in short videos of 2-8 minutes, with close up views of my sketchbook pages. You can stop and start the lessons as much as you wish.
There is an opportunity to share your work in the dedicated Kajabi Community group or a private facebook group.

Such beautiful greens and range of shapes and marks by Holly Dean    @hollydean_artyslife
"What Karen has is a philosophy of non-precious, inquisitive and exploratory play. Rapid mark making and 'give it a go' on the spot demonstrations showing the possible potential and happy accidents. Such fun when I play! I'll be honest I tend to make a mess. Yet out of that mess comes ideas, shapes, lines, marks, inspiration, layers and texture that I could never have achieved with more planning and control." Wendy
"I took this course last May, and I haven't stopped doing it. I've produced authentic work that I recognise myself in, and Karen makes it a joy to show up every day to play. I will take Karen's courses until I'm at least 104, they are pure joy". Eleni
"Thank you Karen, your course has been one of the most liberating experiences I've had, and I have taken part in a few online courses in the past two years. I can honestly say after everything I've learnt and absorbed from your style of teaching and sharing I'm now finally starting to paint and make marks that I feel are really like me! Very grateful."   Nessa