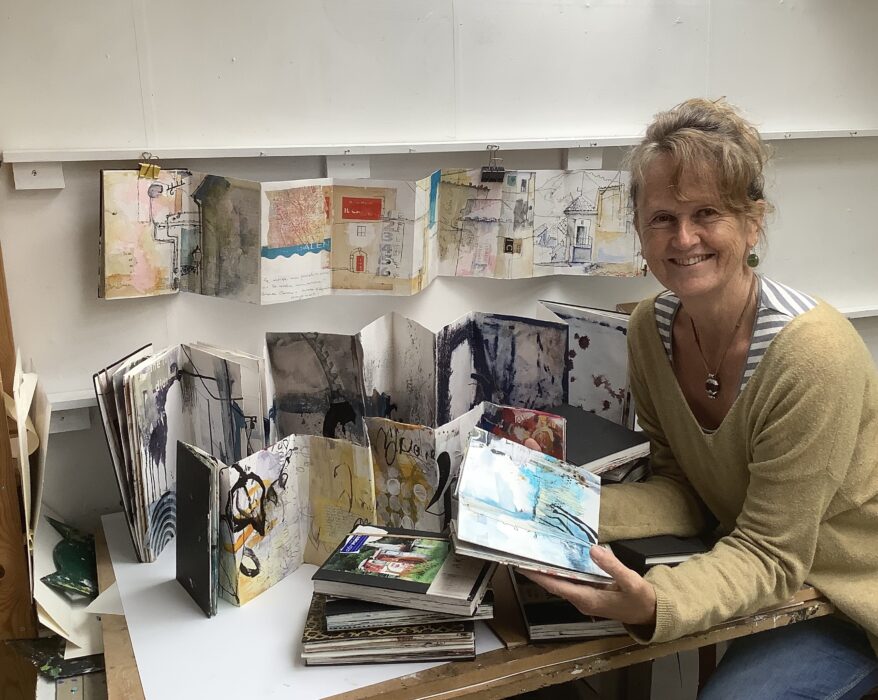 I have three short online Creative Concertina Sketchbook courses, one six week course, and two 30 minute lessons.
Free Up your Sketchbook and Grow  – Six week course Enrolment will open again in October 2022 .  £290. Access is for one year.
I start each course with similar techniques, but then each course has new and different techniques. We build up our pages with different outcome each course.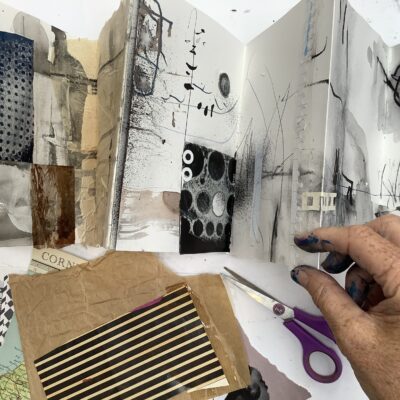 Creative Concertina Sketchbooks 1 –  Buildings/Streets A great course to start with if you want to loosen up, but work with a subject, and understand they way I work and teach.
Creative Concertina Sketchbooks 2 – Allotment/Gardens  This course builds on techniques learnt in Sketchbooks 1. I recommend that you take the first course to become confident, and so you will have all the techniques at your fingertips!
Creative Concertina Sketchbooks 3 – Abstracts  Ideal if you want to create more abstract pages. You will develop your work with six starting points.
Creative Concertina – How Wild is Your Garden? This is the 25 minute lesson from Sketchbook Revival 2020. There are over 20 new techniques, not taught in previous courses.
Creative Concertina – Make a mini book This is the 30 minute lesson from  Sketchbook Revival 2021. Make a mini concertina with a sheet of A4 printer paper and basic materials. You can develop these ideas, also a great one to do with children!
Shorter courses (£75) have six lessons, within each lesson are 2-5 mini lessons with short 5-10 minute videos.  You can complete courses  in your own time, a weekend or over many weeks, you can stop and replay as much as you need to.
To access the course once you have signed up, simply log into your account at https://courses.karenstampercollage.com/login
When you click on the button below you can read all about the course, and watch a video, with no commitment. You can decide if this is the right course for you, then simply press the sign up button.
Free Up Your Sketchbook & Grow