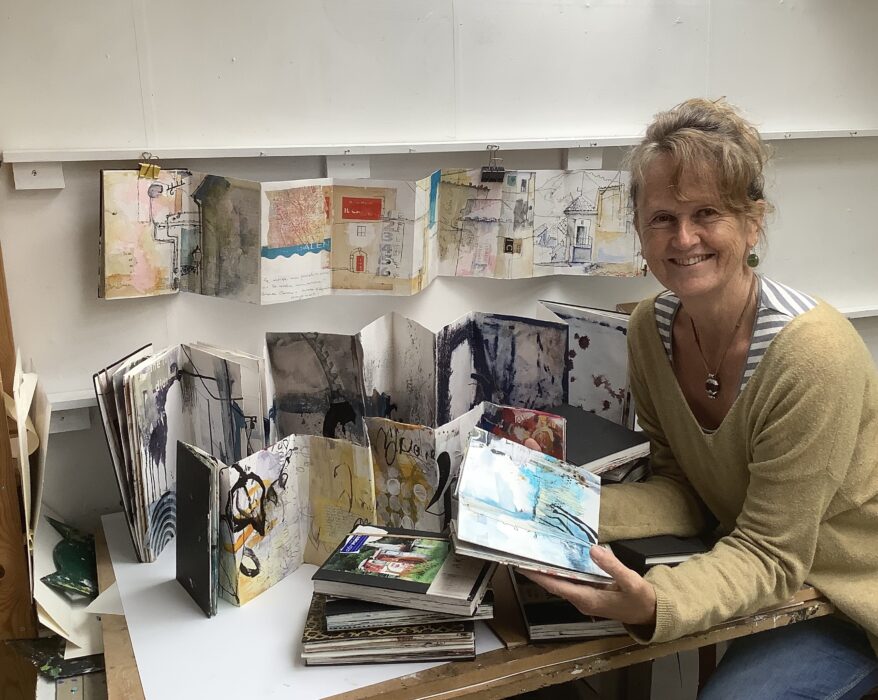 If you have already signed up to one of my courses on Kajabi you can login here   Members login
Please use the email that you originally signed up with. You can also ask for a password reset
There are seven online Creative Concertina Sketchbook courses to choose from. All of these courses have lifetime access. The Buildings, Allotments and Abstracts courses each comprise six modules, with many mini lessons of short 5-10 minute videos.  You can complete them in your own time, over a weekend or over many weeks, stopping and replaying as much as you need to.
The Figure/People course is made up of eight modules with 50 mini video lessons of 2-8 minutes. There are some downloads and an artist reference section. You can complete in your own time, an intense weekend or over many weeks, you can stop and replay as much as you need to.
Click on the headings below to read about the courses. Then if you decide that this is the right course for you, simply press the sign up button on that page.
In addition, there is the Free Up your Sketchbook and Grow (six week) course. Access is for one year. Enrolment for the next one will open again in February 2023.
I start all of the courses with similar techniques, but then each course moves on with new and different techniques and ideas. We build up our pages with a different outcome for each course.
Creative Concertina Sketchbooks 1 – Buildings/Streets.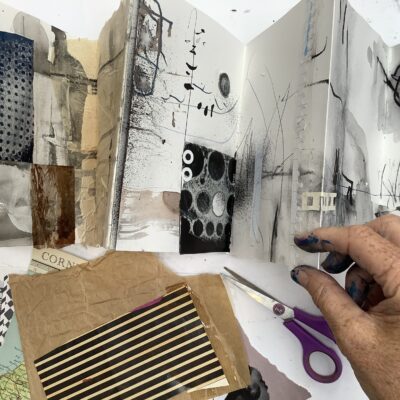 This is a great course to start with if you want to loosen up, but work with a subject, and to understand they way I work and teach. (£75)
.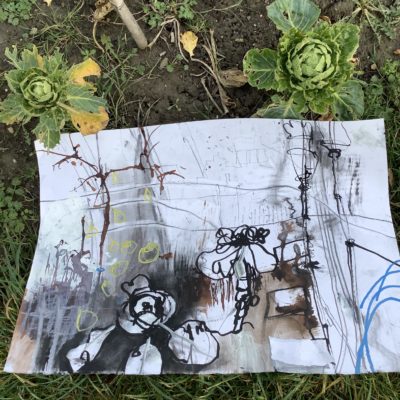 Creative Concertina Sketchbooks 2 – Allotment/Gardens
This course builds on techniques learnt in Sketchbooks 1. I recommend that you take the first course to gain confidence; so you will have all the techniques at your fingertips! (£75)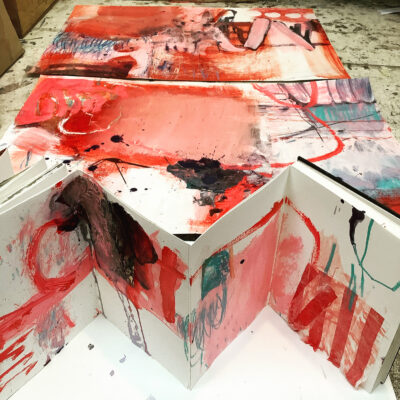 Creative Concertina Sketchbooks 3 – Abstracts
This course is ideal if you want to create more abstract pages. You will develop your work with six starting points. (£75)
Creative Concertina Sketchbooks 4 – Figure/People
NEW COURSE! Opens 1st September 2022
This is perfect if you are afraid to tackle working with the figure. Lots of collage ideas using secondary images. (£90)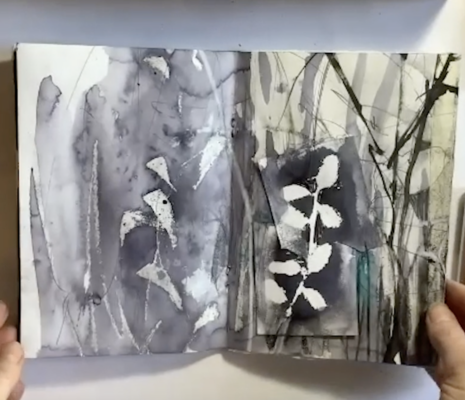 Creative Concertina – How Wild is Your Garden?
This is the 25 minute lesson from Sketchbook Revival 2020. There are over 20 new techniques, not taught in previous courses. (£25)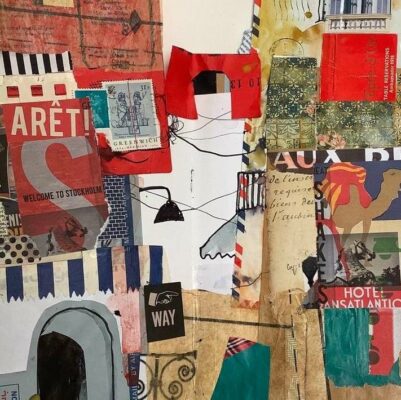 Creative Concertina – Collage the Street
This the 25 minute lesson from Sketchbook Revival 2022 with an added bonus of 20 minutes additional material, as I work on my sketchbook.
It is a fun lesson using your collected collage papers to develop a wonderful quirky street scene. You can use any normal sketchbook for this lesson. (£35)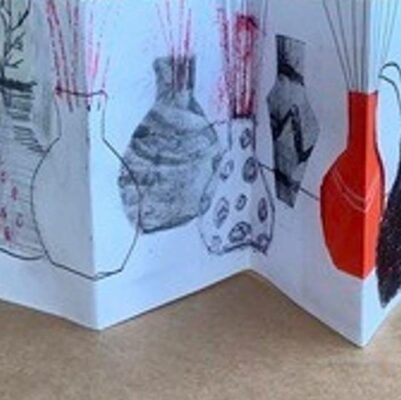 Creative Concertina – Make a mini book
This is the 30 minute lesson from  Sketchbook Revival 2021. Make a mini concertina with a sheet of A4 printer paper and basic materials. You can develop these ideas quite easily, also a great one to do with children! (£25)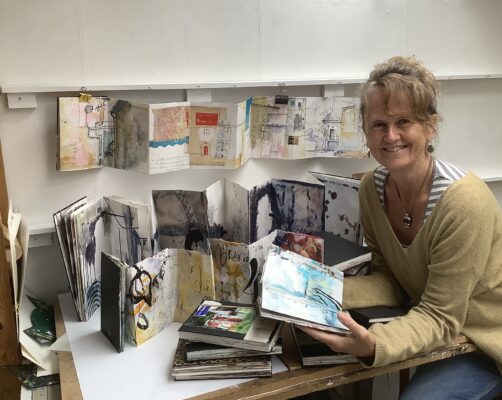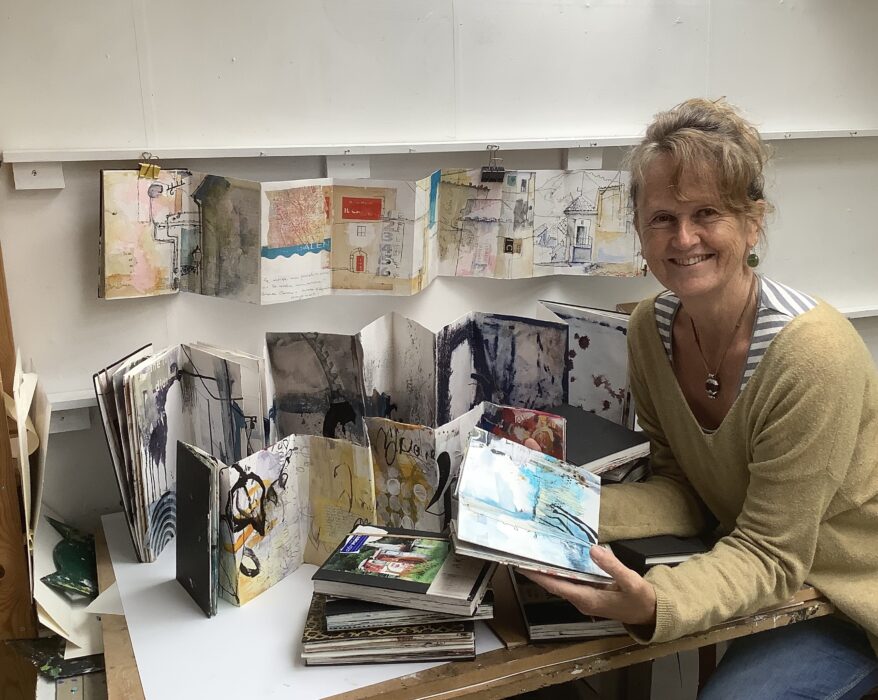 Six week course – Free Up Your Sketchbook and Grow
Opens again in November 2023
This is my six week course that runs three times a year. If you are looking for a way to push your work forwards and find your own style, in a non-rigid way, with room to be independent and do your own thing, then this is the course for you.
There are six weeks of lessons, artists reference, and two zoom calls. (£290)
Register your interest Here if you wish to receive emails about the next course before it opens.
If you have already signed up to one of my courses on Kajabi you can login here   Members login. Please use the email that you originally signed up with. You can also ask for a password reset