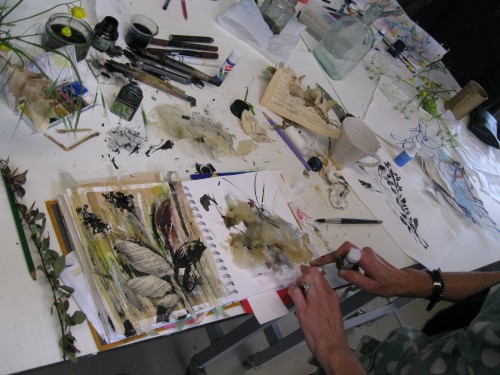 I am running a 'Sketchbook inspiration' workshop at the White House Arts www.whitehousearts.co.uk in Cambridge  email info@whitehousearts.co.uk or call 01223 420018
17th and 18th May 10.00am-4.00pm £100 inc. materials, except sketch books
Sketchbooks are delightful, personal accounts of daily experiences, observations and daydreams. We take time to draw what is seen, imagined, remembered and felt. They help us to rediscover and engage in the joy that comes from drawing and sketching natural and manmade environments that surround us.
This course is suitable for those who love 'sketch booking', but need some fresh ideas or motivation. Also for those who love the idea, have bought the book, but it is still sitting on the shelf!
Observing our environment and everyday objects, also using text and found images, you will have the opportunity to experiment with a variety of techniques in order to develop your sketchbook pages. We will identify what inspires you, the best way to record it and how to respond creatively on your page. We will use a range of materials including pens, paints, collage, Please bring with you your sketchbooks full, half full and ready to go!